Trave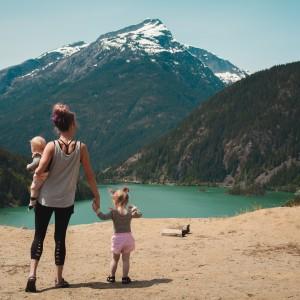 ling with littles is one of the things that instantly brings anxiety and the sweats. Or maybe that's just me…What to pack? What not to pack? What about naps?!!!
Well, for any first-time parents traveling with their little people please take a deep breath with me, and then take a few minutes to scan over the following bits of helpful information.
And also:
You can do it. Everyone will be ok.
Here you go! Helpful things/items/info for traveling with a small human.
There is limited space basically everywhere. The plane will be crowded. The airport will be a mess. So where can you downsize?
Diapers
If you are using disposables, you don't need to travel with a week's worth of absorbent material! Jump on your favorite Google machine, and ship a box of diapers to where you're staying. Voila!
If you are using cloth diapers, consider a few things for your trip:
1) Try staying at an Airbnb with laundry included so you don't have to spend time finding places to wash.
2) Bring at least two wet bags, one for the home base, and one for outings.
3) Bring two days of diapers to ensure yo have some flexibility with when you wash.
Sleep
Some babies will sleep anywhere. Some won't. You know your child on this one, so no tips about when you should book your plane rides – inevitably, we are hoping for the best and planning for the worst.
Some tools that could be helpful in any situation:
1) A baby carrier. Bring your carrier and have it in your carry on luggage. It is a great way to help your babe feel safe and comforted, and if they are able to settle down to snooze, your arms can get a break. Instinctive Parent in Pembroke has the largest selection of carriers on the South Shore and you can try them all out with trained babywearing educators before you buy!
Plus…a common experience is for a parent to carry their babe, and have all the stuff in the stroller instead of vice versa. So…
Gate check your stroller! You're going to want it quickly once you deplane – either for your kiddo or for all your stuff (not even joking).
Sleep, Part 2
If you are staying in a hotel, consider putting the roll away crib or pack-n-play in the bathroom. It will be dark, there is a door, and you may be able to unwind a bit easier if you don't believe every small shuffle will wake your tired little traveler.
Better yet, again consider renting a larger unit on Airbnb or a whole house! Snag a kitchen, that washer and dryer, and let the babe have their own sleep space if that is what they are used to!
General Tools for Your Trip
1. Sound Machine – an app or the gold standard – a Dohm – bring it. The small bulk of this one item is worth it.
2. Bring more clothes for your baby than you think you need. Blowouts happen. Spit up happens. And inevitably, anything else that can happen, will. They are so small, it won't take up that much extra room.
3. Disinfecting wipes – These may not be as important as your babe grows and starts to crawl and walk, but they are sure great to have on hand for a little piece of mind.
4. Suntan lotion/ hats – Bring it, and use it, wear it. Nothing makes a family more miserable than getting a sunburn. Babo Botanicals makes an amazing mineral based sunscreen that is safe for everyone. The best sun hats are those with ties so that your baby can't easily pull it off their head.
5. Umbrella stroller – Forget the notion that you won't need it. An umbrella stroller is such a lifesaver when there are kiddos with little legs that can't keep up, or for small babes who may enjoy a snooze from the steady bumping that comes with a nice stroll. UPPAbaby, another local business has an amazing umbrella stroller.
6. Backpack diaper bag – forget straps that will slip and slide around your shoulders and need to be picked up constantly. Skip Hop has some amazing back pack diaper bag options. Strap that thing to your back and have fun!
Enjoy your trip, and remember to put yourself in some of those pictures you will be snapping.