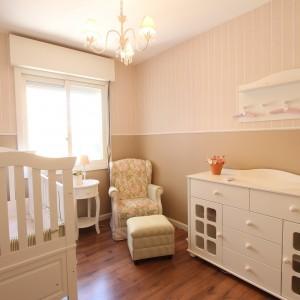 Becoming a parent for the first time or even adding to your family can be quite an overwhelming feeling, but it doesn't need to be! Here are some simple ways to plan ahead and prepare a nursery that functions well and is safe for your baby, which will allow this time in your life to be more enjoyable.
Choosing furniture is usually the first step to designing your organized and functional nursery. Be sure to take measurements of your nursery to avoid buying furniture that might not fit well in your space. Furniture made out of sustainable, solid wood is the best option for both the health of your child and the environment. Look for the GREENGUARD gold certification on furniture and mattresses, which guarantees no heavy metals, phthalates, formaldehyde or flame retardant to be in these products (sadly these are in many products designed for children). Also look for the JPMA certification that complies with ASTM standards. These certifications and standards have been put in place specifically to keep your child safe. Make sure that you will have space for all the baby's clothing, pajamas, blankets, diapers, wipes and personal care products. One of the best parts about baby clothing is that it's tiny (and adorable of course too!). You don't need a large dresser, just one that will fit their basic items and also your space. If you have room for a larger dresser that won't crowd your nursery, go for it! Having extra storage will be helpful. Try to buy a changing station with room for the diapers, wipes, diaper cream and other personal care products. Take advantage of space in the closet for blankets, shoes and some bulkier items. Dress clothes are typically the only items that need to be hung up, but of course whatever you are most comfortable with is always best. Space under the crib can be used as well for storage. Covered bins that roll in and out or storage containers designed for under bed use is a great way to maximize this space that often goes un-used. If you have a small space, go vertical. Buy furniture that is tall, rather than long. A comfy chair and side table is a must for nursing and bottle feeding sessions. A table is necessary because you will be thirsty during those nursing sessions and it is helpful to have a place to set bottles down for burping.
Books, stuffed animals and toys are also going to need a home. Find a nice bookshelf or container to store your books. Be sure to have extra room in mind for your baby's growing library too. Stuffed animals store well in a large fabric bin, mesh hammock that can be hung or a stuffed animal bean bag chair. Since creating a calm environment in the bedroom is important, other toys are not always the best idea. If you don't have a play room or additional space to store toys, try to categorize them in a bin organizer, or use closet space so the toys are out of sight for rest time.
The most popular items to receive for baby is clothing, blankets, burp cloths and bibs. How could anyone resist the adorable baby clothing section? Unfortunately what often ends up happening is many of those adorable clothes never get worn. The best way to make sure that you get full use out of all of these items is to identify what you plan to use, de-tag & wash them. I highly recommend washing them, because there are often chemicals on new clothing from manufacturing and these chemicals can irritate your baby's sensitive skin. Consider using a fragrance-free, eco-friendly detergent or one scented with essential oils if you prefer a fragrance. If you can wash the items by category, this will make folding much easier since you will be washing a lot at once. Wool dryer balls are great in place of dryer sheets. They reduce drying time, don't contain chemicals and reduce waste. You can add a few drops of lavender to them or a different oil that is safe for babies. The next step is to sort everything by category and size. Pay close attention to the sizing and weight chart of each brand because they tend to run a bit different. Once you have sorted them, the biggest sizes can be stored somewhere that is moisture free. Since your baby will grow quickly in the first year, it's easier to keep the next two sizes up in an easy to access place, like the closet. Matching outfits and pajamas is the best way to keep your drawers organized. Fold the bottoms and then fold the top evenly over the unfolded side of bottoms to make them easier to grab from the drawer. Match all the socks together too so you aren't left searching for a matching pair.
Other factors can also create a bit of crowding and disorganization. Extra baby care products can become an issue in a nursery because there tends to be so many of them. Keep the products that you use daily in a small basket and store it close to the diaper changing area. Also be sure to donate or return items quickly once you have identified that they won't be used. Personal care products can expire, so try to be aware of what will need to be used soonest and store them toward the front. Naturally based, biodegradable products are the safest choice and will be less likely to irritate you baby's sensitive skin.
Childproofing is important so that the room is ready once your little one is on the move. Use outlet covers where nothing is plugged in, and be sure that all cords are out of reach to prevent strangulation. Cord free blinds are a great option! Avoid the temptation to use chemically based air fresheners and plug-ins. Also use naturally based cleaners for your nursery if you don't in the rest of your home (we hope you will consider making the switch!). Chemically based products can cause respiratory problems for your whole family, but especially for a newborn baby.
This one is easier said than done, but accept help! Hiring a professional organizer is a great option because it can be nice to work with a professional and not feel like you are putting a burden on loved ones. If you are unable to hire an organizer, don't try to tackle it all in one day. Compile a list of things that need to be done before your little one arrives and tackle each one as time and energy allows. This time in your life is so precious and trying to keep your stress low while creating the nursery that will meet your needs is so important. Now, grab a pad of paper and get that to-do list written down!
If you have enjoyed this post, please pass it on to a friend, share it and follow us on Facebook, LinkedIn or Instagram to stay up to date with our most recent projects and for more helpful tips. Thank you!
~ Alyssa Colburn, Owner Of Colburn Interiors Professional Organizing Services
Interested in having Alyssa help out with your nursery set-up? Check out this new service from New World Doula Services!